85 Years and Going Strong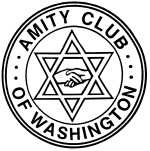 Washington, DC — The Amity Club of Washington, a philanthropic and social club for active and retired businessmen serving the Washington DC area, celebrated its 85th birthday this year. The group started in 1924 as a small, card playing club and has evolved into one of the premier men's clubs in the Washington DC area.
For its members, golf outings or dinner/speaker events are held monthly. This year's golf tournaments included Hunter's Oak Country Club, Montgomery Country Club, Chartwell Country Club, Hunt Valley Golf Club and Lake Presidential Golf Club. At these events, members enjoy new and unfamiliar premier golf courses, camaraderie, and the opportunity to support worthwhile charities. Dinner events often feature prominent guest speakers from politics, media and sports. This year's slate of speakers includes Washington Post Sports columnist Tom Boswell, Yaron Sfadyah from the Israeli Embassy, and ESPN baseball analyst Tim Krirkjian.
Amity also supports numerous organizations through its charitable foundation. For 2009 and in recent years, the Amity Club of Washington was proud to have made donations to numerous charities, including:
Alzheimer's Association
Anti-Defamation League
American Friends of Magen David Adon
American Friends of Tel Aviv Univ
American ORT Federation
Autism Speaks
Chai Lifeline
Children's Inn at NIH
Jewish War Veterans
Friends of Allison Atlas
Jewish Community Center
Jewish Council for Aging
Jewish Foundation for Group Homes
Jewish Social Services
Leukemia and Lymphoma Society
Montgomery Child Care
Montgomery County Stroke Association, Inc.
National Holocaust Museum
Volunteer Braille
Whitman Walker AIDS Clinic
Members are kept up to date on all club activities through our monthly newsletter, which also makes mention of member birthdays and wedding anniversaries as well as any "good and welfare" news. Our website also features a business directory of member services and "in memoriam" tribute pages to members that have passed away.
Past President Ralph Rothstein, who was born the same year that the Amity Club was founded, fondly recalls, "My Dad was one of the Founding Fathers of Amity in 1924. His enthusiasm for the Club rubbed off on my brother and me – we both joined Amity in 1946 and have been active members ever since. My two sons have been members for over twenty years. We have all made life long friendships."
Added current President Adam Warshavsky, "Amity's roots run deep in the Washington DC region. The club's rich traditions of fellowship, camaraderie and charity are alive and well in all of its members".