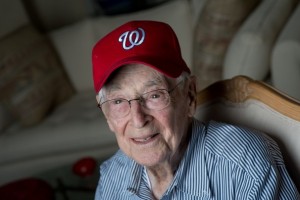 Now here sits Bertram R. Abramson, 99 years old, lifelong lover of baseball — especially Washington baseball — wearing his new Nationals hat and talking about the time he saw his hometown team play in the World Series."Game One, 1924," he says. "Walter Johnson pitched for the Senators. It was a good game, very well-played."
The Washington Post's Barry Svrluga, Chico Harlan, Adam Kilgore, James Wagner and columnist Thomas Boswell recall the journey of the Washington Nationals since the team moved from Montreal to winning its first division title in 79 years, and all the good and bad moments in between.
He remembers much of the detail like it was yesterday, even though it was more than 32,000 yesterdays ago, on Oct. 4, 1924, when Abramson sat in the aisle at old Griffith Stadium and watched the very first World Series game ever played in Washington.